Conservation of Protein Structure and Function
Birte Hernandez Alvarez
We study structure-function relationships in proteins from an evolutionary perspective. We use a wide range of biophysical, microbiological and molecular biological methods to structurally characterize proteins, identify peculiarities and analyze their effects on stability and function. By comparatively analyzing the sequence, structure, and function of prokaryotic and eukaryotic homologs, we are able to identify and understand the evolutionary processes that have shaped these proteins as we know them today.
Objectives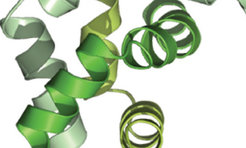 We work primarily with prokaryotic proteins as they originate from single cell systems and, unlike their usually more complicated eukaryotic counterparts, have a clear protein domain composition, which considerably facilitates structural and functional characterization. Our work is focused on very different projects. In the first, we are investigating structural features of coiled-coil domains that arise from different types of insertion or deletion of amino acid residues.
The second project focuses on structural and functional studies of proteins possessing multi b-barrel domains that are found in the outer membrane of the bacterial cell wall and eukaryotic organelles and have evolved from single-barrel proteins by gene fusion and duplication.
The third project compares prokaryotic histone-like proteins with their eukaryotic homologs with respect to similarities and differences in their structure, DNA binding mode and specificity, and in vivo function.
Selected publications
ElGamacy M, Hernandez Alvarez B. Expanding the versatility of natural and de novo designed coiled coils and helical bundles. Curr Opin Struct Biol. 2021 Jun; 68:224-234. doi: 10.1016/j.sbi.2021.03.011. Epub 2021 May 5. PMID: 33964630.
Hernandez Alvarez B, Skokowa J, Coles M, Mir P, Nasri M, Maksymenko K, Weidmann L, Rogers KW, Welte K, Lupas AN, Müller P, ElGamacy M. Design of novel granulopoietic proteins by topological rescaffolding. PLoS Biol. 2020 Dec 22;18(12):e3000919. doi: 10.1371/journal.pbio.3000919. PMID: 33351791; PMCID: PMC7755208.
Adlakha J, Karamichali I, Sangwallek J, Deiss S, Bär K, Coles M, Hartmann MD, Lupas AN, Hernandez Alvarez B. Characterization of MCU-Binding Proteins MCUR1 and CCDC90B - Representatives of a Protein Family Conserved in Prokaryotes and Eukaryotic Organelles. Structure. 2019 Mar 5;27(3):464-475.e6. doi:10.1016/j.str.2018.11.004. Epub 2019 Jan 3. PMID: 30612859.
Hartmann MD, Mendler CT, Bassler J, Karamichali I, Ridderbusch O, Lupas AN, Hernandez Alvarez B. α/β coiled coils. Elife. 2016 Jan 15;5:e11861. doi:10.7554/eLife.11861. PMID: 26771248; PMCID: PMC4786415.
Hartmann MD, Boichenko I, Coles M, Zanini F, Lupas AN, Hernandez Alvarez B. Thalidomide mimics uridine binding to an aromatic cage in cereblon. J Struct Biol. 2014 Dec;188(3):225-32. doi: 10.1016/j.jsb.2014.10.010. Epub 2014 Nov 4. PMID: 25448889.
Hartmann MD, Grin I, Dunin-Horkawicz S, Deiss S, Linke D, Lupas AN, Hernandez Alvarez B. Complete fiber structures of complex trimeric autotransporter adhesins conserved in enterobacteria. Proc Natl Acad Sci U S A. 2012 Dec 18;109(51):20907-12. doi: 10.1073/pnas.1211872110. Epub 2012 Dec 3. PMID: 23213248; PMCID: PMC3529040.
Hartmann MD, Ridderbusch O, Zeth K, Albrecht R, Testa O, Woolfson DN, Sauer G, Dunin-Horkawicz S, Lupas AN, Alvarez BH. A coiled-coil motif that sequesters ions to the hydrophobic core. Proc Natl Acad Sci U S A. 2009 Oct 6;106(40):16950-5. doi: 10.1073/pnas.0907256106. Epub 2009 Sep 23. PMID:19805097; PMCID: PMC2749845.