Electron Microscopy
The Electron Microscopy Facility offers a variety of modern techniques to address scientific questions in cellular and molecular biology on an ultrastructural level.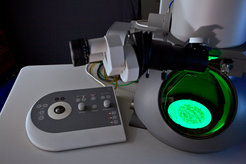 Using electron microscopes requires highly specialized sample preparation techniques but gives insights into ultrastructural details not possible with other techniques. Staff in the facility helps to determine a suitable sample preparation technique and to find experimental conditions for each project. For cell biological questions, we offer both room temperature and cryo processing techniques. Depending on the sample, we provide transmission electron microscopy and/or scanning electron microscopy imaging. For structure determination of macromolecular complexes, we offer negative staining and plunge freezing as sample preparation techniques. Data can be collected on a dedicated transmission electron cryo-microscope for single particle image processing.
Mission
Support researchers in their electron microscopical projects by providing scientific, technical and hands-on support.

Maintain and provide access to sophisticated equipment and offer a large spectrum of sample preparation and microscopy (TEM

/cryo-TEM

/SEM).

Provide individual hands-on training

in

sample preparation, microscope handling and data acquisition.

Organize courses on EM methods.