Compute Cluster
The Cluster Facility is a centralized service unit, available to all departments and groups of the Max Planck Institute for Biology Tübingen and the Friedrich Miescher Laboratory. Scientists run complex computations in bioinformatics with extensive processing, memory and storage demand. Our attendances are aimed to help scientists focus on their research full time.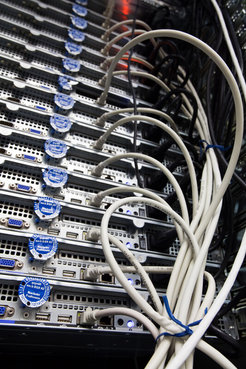 The cluster consists of several infrastructure servers and an array of compute nodes, most of which are equipped with GPU cards to provide the necessary computing power for GPU computations, specifically alphafold and its variants, or 3D reconstruction tasks of the Electron Microscopy Competence Center.
Users are enabled to individually request computing power and time, based on a scheduling system.
Sustainable energy management
At the Max Planck Institute for Biology, we aim at keeping our facility at a sustainable energy consumption level. We regularly monitor energy consumption and switch off idle nodes when possible.