Bio Optics
The light microscopy and fluorescence-activated cell sorting (FACS) facility hosts high-end equipment to enable researchers to get as much scientific data as possible out of their biological specimens. As light is a state-of-the-art tool to investigate living samples we have our instruments compatible with living samples of all flavours wherever possible using incubators, working with low light doses and customising sample holders. 
 
Main tasks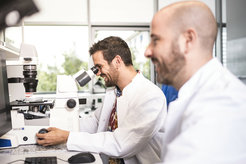 User training on facility microscopes
Quality control and maintenance of facility instruments
Support in sample preparation and experiment design
Help in image analysis
Organizing access to or develop custom made imaging or image analysis solutions
Microscopy courses
External users
Free capacities on the instruments of the facility can be used by externals. For more information please get in contact with the head of the facility.