4th International Pristionchus Meeting
September 22 and 23, 2023 | Tübingen, Germany
After three successful Pristionchus online-meetings, we are very pleased to be able to invite you to the 4th International Pristionchus Meeting at the Max Planck Campus in Tübingen, Germany.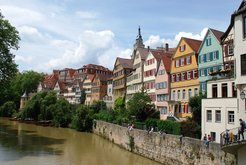 The meeting will be held in person on September 22 and 23, 2023.

We are planning two full days of meetings, so delegates from abroad are expected to arrive on Thursday, September 21 in the evening and leave on Sunday, September 24 in the morning.

Since this is the first Pristionchus meeting in person, we have planned plenty of time for informal discussions and poster sessions.

The meeting as such, including lunch and dinner on both days, is free, but participants are expected to make their own travel and lodging arrangements and pay for them.
We are looking forward to welcoming you here in Tübingen in September,
Adrian Streit
Maria Gölz
Ralf Sommer