Podcast Susana Coelho and Daniel Liesner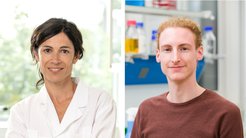 Daniel Liesner and Susana Coelho talk about sexual reproduction, the difficulties of finding a partner in the ocean, and switches of sexual systems.
"Auf den Grund gegangen" is the new Podcast series of the Max Planck Campus Tübingen (in German language).

To listen to the podcast, please go to the campus podcast page.