News
Launch of the "EUROBLAST" initiative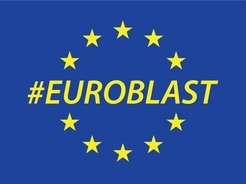 10.07.2023. We are launching the EUROBLAST initiative. As a community and citizen science project, EUROBLAST aims at monitoring occurrences of the blast fungus Magnaporthe oryzae in Europe. In the face of climate change, it is crucial to improve surveillance of plant pathogens to understand their migration and the dynamics and evolution of local pathogen populations. For this purpose, we have launched the EUROBLAST project in collaboration with Cristina Barragan and Sophien Kamoun at the Sainsbury Laboratory, Norwich on the iNaturalist app. Please keep an eye out for blast disease symptoms on cultivated and wild grasses during mid-August – late September. These are oval-shaped lesions on the leaves with a grey center and brown or purple edges.
Get in touch and report any observations here: https://www.inaturalist.org/projects/euroblast.
Appointment as MPI Group leader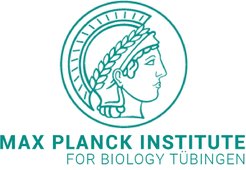 01.07.2023. Thorsten Langner has been appointed as independent group leader at the Max Planck Institute for Biology, Tübingen. His group will study how the genomes of filamentous plant pathogens evolve and how these events impact the structure and function of virulence effector proteins. The knowledge gained from his research will ultimately inform the development of new plant immune receptors.

Our project "PANDEMIC" receives ERC starting grant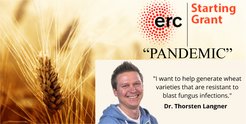 22.11.2022. Great news from the European Research Council (ERC). Our project "PANDEMIC" was selected for an ERC starting grant. In this project, we will investigate how mini-chromosome encoded virulence effectors proteins of a pandemic lineage of the wheat blast fungus interact with target proteins in the host plant. Ultimately, we will leverage this knowledge for bioengineering of designer plant immune receptors against this devastating plant disease.
Links to news sources
TSL news outlet:
https://www.tsl.ac.uk/news/exciting-research-on-plant-infections-awarded-a-multi-million-euro-grant-2
VAAM Section "Good News for Fungal Research":
https://vaam.de/die-vaam/fachgruppen/biologie-und-biotechnologie-der-pilze/newsletter/
ERC list of PIs:
https://erc.europa.eu/sites/default/files/2022-11/erc_2022_stg_results_ls.pdf