Honorary doctorate for Detlef Weigel
University of Helsinki recognizes the life time achievements of the biologist
 
On May 26, 2023, the University of Helsinki will award Detlef Weigel an honorary doctorate. Alongside 29 other public figures from all over the world, the scientific director of the Department for Molecular Biology at the MPI for Biology Tübingen will thus receive the highest distinction the university bestows.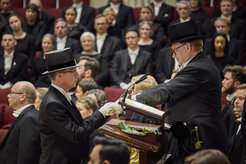 Detlef Weigel is one of the most influential plant biologists of his generation and has previously received numerous honors; this is the second time a Doctor honoris causa title is conferred on him. The Faculty of Philosophy of the University Helsinki therewith honors the totality of his scientific achievements, while also recognizing his dedicated service to the international scientific community. In addition to his academic research, Weigel advises companies and scientific organizations, and he actively and enthusiastically supports junior researchers.
Weigel attained international renown in the 1990s with groundbreaking findings on flower development and control of flower onset. Studying these adaptive traits sparked Weigel's interest in how changing environmental conditions affect plant evolution. In recent years, his primary interest has revolved around questions such as how plants adapt to the changing climate and how their immune systems diversify. "Several of my Finnish colleagues are doing cutting-edge research at the interface of evolution and ecology, which for me is one of the most exciting fields in modern biology; hence this recognition means a lot to me", Weigel emphasizes.
Conferment during festive jubilee celebration
Due to the 100th anniversary of the conferment ceremony, the awarding will take place in an exceptionally festive atmosphere. The three-day festivities, during which the university's new graduates traditionally receive their insignia, celebrate achievements in Finnish science and society. The event brings together personalities from different disciplines and generations, honors volunteer work, and draws attention to topical social issues. This year's celebrations will, among others, recognize the achievements of Finnish President Sauli Niinistö and Swedish climate activist Greta Thunberg.